Our Story
Inspired by the younger generation's unique and independent personality and attitudes towards lifestyle and work and love, Bestcarat is established and we strive to make it become the top one in the vibrant fashion jewelry industry. It is dedicated to helping you to show your personality and express your attitude toward lifestyle and love differently by incorporating moissanite in everyday pieces, including earrings, necklaces, bracelets, and more. They can enhance your ensemble and your day-to-day, making you the most eye-catching one in the crowd and helping you show your charm.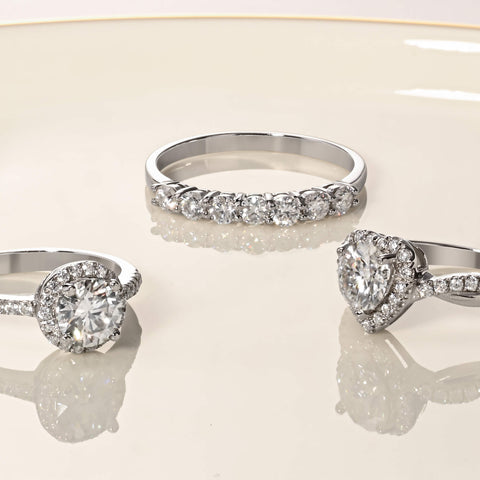 At Bestcarat, we aim to think outside of the jewelry box and grant our customers the opportunity to set the new trends that are sure to become classics. Instead of following fashion forecasts, we urge you to rely on your style and showcase it with pride. After considering the many routes we could take, we couldn't resist the undeniable pull of a certain gemstone: moissanite.
 The Moment Is Moissanite
Why moissanite? Moissanite has a beautiful definition. It is called gems from the stars as its original said that it came from the sky and fell in Arizona fifty thousand years ago. It symbolizes the younger generation's idea of breaking traditional limits, showing their individuality, and expressing their romantic idea of loving you across time and space, which coincides with Bestcarat's idea of breaking through the stereotype of the moissanite market and redefining moissanite as a new way for young people to express themselves, not only about love and marriage but also about their lifestyle and personality or even more. 
 We're fond of moissanite because of its dazzling brilliance; it surpasses diamonds and all other gemstones with ease due to the fiery, rainbow-like flashes it produces. Additionally, moissanite is far more ethical than other stones, as it's man-made and doesn't rely on the Earth's natural elements, making it perfect for those who want to preserve the planet and its style.
Our collection features a range of styles designed to fit seamlessly into any lifestyle. Whether you're taking meetings at work, accepting drinks at the bar, or taking a break at home, Bestcarat has the best pieces that display their merit for any occasion.
The Bestcarat Promise
Our mission at Bestcarat is to become the ultimate trendsetters in young fashion jewelry. We're vehement about breaking through the barriers of time-honored traditions by introducing moissanite as a viable alternative to diamonds. Our purpose is to create affordable, heirloom-worthy jewelry you can cherish forever. By making beautiful jewelry accessible, we make it easy for you to earn your rightful status as a trailblazer, gaining admirers everywhere you go. Now you can celebrate your individuality with jewelry that best represents who you are and what you value.
Our vision is to become the ground-breaking e-commerce brand specializing in all things moissanite. We have an excellent artisan team who perform with the uncompromising skill to design and develop flawless moissanite pieces, so you never have to worry about replacing them. They reveal sparkle that rivals the stars and durability that you can always trust, reinforcing our mission to secure a permanent place in your collection. 
Simply put, we create timeless pieces designed to remind you of your unfailing beauty and brilliance. When you glance at your reflection, your Bestcarat jewelry glittering under the lights, you'll be mesmerized by undeniable youth, making us your source of inspiration and everlasting self-love. So, secure your enviable sense of style and discover the endless possibilities to create with moissanite jewelry you love to wear, collect, and treasure - Glister, Better in Bestcarat